Here at BongoMad we are so pleased that we are now APPROVED FITTERS for the New Dawn Conversions Mazda Bongo swivel seats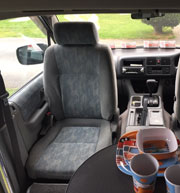 BongoMad are proud to be an approved fitter for the Mazda Bongo front swivel seats designed and created exclusively by New Dawn Conversions.

Create more space in the rear of your Mazda Bongo by swiveling both the drivers and passengers front seats around.

The convenience of being able to swivel your seats around can help to create the perfect dining area in the rear of your Mazda Bongo.

The seat has been designed to be easy to use, see the New Dawn Conversions video below showing just how simple they are to swivel.


*Safety/Disclaimer*

• Please note: This item should only be used when your vehicle is in a parked position - under no circumstances should the item be used when the vehicle is moving. The item is created for leisure purposes only.

• The two skewers that secure the seat must be reinserted each time the seat is rotated, regardless of the way the seat is facing.
• This product has been approved by 4 independent garages through MOT inspections.



BongoMad offer APPROVED fitting at our premises in Worthing, West Sussex.
Save
Save
Save
Save
Save
Save
Save
Save
Save
Save
Save